Sites of interest
There are so many sites of interest in London and environs that cannot be summarised here. We just limit to report some of them we think could interest you in some way: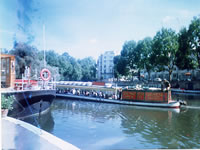 London's Canals are not usually advertised and, therefore, visited by tourists, whereas they represent a London's peculiarity which would deserve a visit. Nowadays, two canals survive only, the Regent's Canal and the Grand Union Canal. They are remnants of a complex pre-railway transport system, now used only for pleasure trips and the observation of wildlife in the heart of London. London has its own canal quarter, 'Little Venice', you can see on the left, just north of Paddington railway station. The Regent's Canal passes Regent's Park - providing a scenic, convenient and different approach to the London Zoo. Delve into this issue by reading "London's Canals" by Derek Pratt, Shire Books, £ 5,99.
The London Eye, Jubilee Gardens, next to County Hal (ph. 0870 550 0600 ), with its 135 metres, is the highest observation wheel in the world and is visible from many parts of central London. It's worth having a tour on the London Eye, so as to get a very wide view of London, something like 25 miles in each direction on a clear day. Should you decide such a tour, we'd suggest that earlier you take binoculars with you, or at least, hire them from the ticket office in County Hall. The London Eye, also said Millennium Eye, is open daily from April to October (9:00-dusk), and from November to March (10:00-6:00). Tube stations: Waterloo, Westminster.
The Millennium Bridge, designed by Norman Foster, Anthony Caro and Ove Arup, is London's newest bridge which links the Tate Modern and Shakespeare's Globe theatre to St. Paul's Cathedral. The Millennium Bridge is the first new bridge to be built over the Thames since 1894.
The British Museum's Great Court, Great Russell Street (ph. 0207 636 1555), is open from Monday to Saturday (10:00-17:00) and Sunday ( 14:30-20:00). The admission is free. Norman Foster has added a glass and steel roofed plaza, creating an interesting public space. The project also includes a newly refurbished circular Reading Room. Admission: Free. Tube stations: Russell Square, Holborn, Tottenham Court Road.
The Jubilee Line Extension opened in 1999 and links Green Park in the West End to Stratford in east London, via North Greenwich (for the Dome) and Canary Wharf. The eleven new stations were designed by a variety of leading British architects. The stations are futuristic and dominated by steel and glass. You need just a Travel card to use this line, reaching Canary Wharf and Southwark, the ideal places to start exploring the area.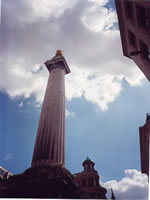 The image on the left refers to the famous Wren's column, built after the "Big fire" which destroyed London during the 17th century.
After visiting the column, climbing up hundreds of steps, you reach the top, a kind of terrace, from which you can admire all the central area of London along the river Thames. It's really wonderful, so we'd suggest that you have a try too.
When going out the column, you'll get a "diploma", which states that you have visited the monument.