Life
Theatre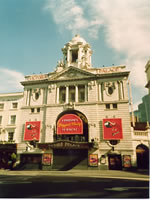 No doubt London is one of the best cities in the world for theatre. There's an excellent range of shows you can see, from musicals in the West-End to small budget productions in pub theatres.
Tickets may be bought from the Britain Visitor Centre in Regent Street and the Tourist Information Centres in Victoria and Waterloo stations. They may also be bought direct from any theatre box office, in person, by telephone and on the Internet. Most theatres accept credit card bookings. We'd suggest that you don't buy from touts and you buy tickets direct from the theatre box office to save on credit card charges, phone booking fees and agency commissions. In fact, when you book your tickets through a ticketing agent, they are likely to charge a booking fee. Always check in advance for the amount of commission or booking fee.
There are several options to get tickets for less:
Half-Price Ticket Booth in the Clock Tower Building in Leicester Square: has a limited number of tickets for most West End shows on the day of the performance (cash only). Tickets are restricted to four per person and you cannot return the tickets to the Booth, though the theatre might accept returns. The Half Price Ticket Booth is open from 13:00-18.30 from Monday to Saturday;
Student - standby tickets: there are hundreds of good deals where unsold or returned tickets for that evening's performance are sold to students at highly discounted prices before the show. Always phone ahead to check the show isn't sold out and be prepared to queue. Don't forget to take your student ID. The Royal National Theatre (0207 452 3000) has a well­established student standby scheme which offers any unsold tickets for around £10 from 45 minutes before the start of the show;
Night tickets: some theatres have reduced price at nights. For example, at the Royal Court all tickets are £5 on Monday nights;
Matinee (afternoon) performances: they are much cheaper. Monday to Thursday evening performances in the West-End tend to be cheaper than Friday or Saturday nights;
Previews: the tickets are considerably cheaper as the critics haven't had a chance to see the show yet;
Pay for restricted-view seats: they're in the stalls or in the 'gods' at the top of the theatre. Alternatively, some theatres, like the Royal Shakespeare Company, the National and the Globe, sell standing room tickets at vastly reduced prices.
Useful telephone numbers: Ticketmaster 020 7344 4444, First Call 020 7420 0000.
Museums
The British Museum It's the oldest national public museum in the world and attracts millions of visitors each year. Don't miss Greek and Roman artefacts, the first known image of Christ, and a collection of mummies.
Victoria and Albert Museum (V&A) It's world's greatest museum of art and design, where you can admire glass, fashion, ceramics, sculpture and much more.
National Portrait Gallery The portraits on show span all media from oils, watercolour, sculpture, photography and video.
The National Gallery You can admire exceptional paintings from Botticelli, Leonardo da Vinci, Rembrandt, Picasso, Michelangelo, Renoir, Monet and Van Gogh.
Tate Britain The largest collection of British art in the world . It features works from the last 5 centuries, including contemporary British art.
Tate Modern It houses the best of contemporary art from all around the world (it used to be the former Bankside Power Station).
Cinema
There are over 600 cinemas in London, so you simply have to choose the one matching your needs. The main cinemas area is around Soho and the West End, but it's also the most expensive with the prices of movies rising dramatically every year. Look for a local cinema which will probably be better value for money. To check out film listings, grab a free copy of the TNT, or purchase the weekly Time Out magazine, which details every event in the city.
Music
It's not impossible to enjoy excellent live music in London for nothing. Look out for the special "free" symbols in the weekly music section of Time Out. Many London music stores and bookshops offer afternoon or early evening acts. New York-style Borders (197 Oxford Street), regularly presents free jazz, folk and acoustic performances. The Barbican, The Royal Festival Hall on the South Bank and the National Theatre all have extensive free music programmes. Pick up a leaflet from any South Bank venue.
Classical music
The two major arts complexes in London offering a wide range of musical events, are the South Bank Centre and the Barbican Centre.
The South Bank Centre, Belvedere Road (Embankment tube / Waterloo tube & rail, ph. 0207 9604242) includes three concert halls. The Royal Festival Hall is the major one and The London Philharmonic and Philharmonia orchestras regularly play here. The Queen Elizabeth Hall is smaller but offers an interesting programme, while the even smaller Purcell Room is for those with more experimental tastes.
The Barbican Centre, Silk Street (Barbican/ Moorgate tube, ph. 0207 6388891 box office - 0207 382 7272 recorded information), is home to the London Symphony Orchestra, but also holds other classical concerts, from opera productions to chamber music. Also of interest are the free foyer events and the occasional pre-concert talks.
Other major venues include the Royal Albert Hall. Kensington Gore, which is best known for its Proms summer music festival, and the Wigmore Hall, 36 Wigmore Street, which is well known as a recital venue.
Kenwood Lakeside Concerts, Kenwood House, Hampstead Lane (Archway, Golders Green or Highgate tube, ph. 0207 973 3427), are very popular on summer evenings in London.
Contemporary music
London is home to a widely diverse and constantly evolving music scene, so any kind of music you like, there is certain to be somewhere for you. Timeout magazine is a good source of information, as well as City Limits and New Musical Express. Many venues (places where concerts, plays etc take place) also offer restaurants and/or bars.
Clubbing
London is the clubbing capital of the world with its huge variety of styles on offer, but the precise definition varies, as clubs differ from night to night.
Many clubs have a dress code and trainers and jeans are usually not accepted, even if there is no dress code. Make sure you check before you leave home. Expect to pay around £3-£12 to get in and make sure you have enough money for the cloakroom (£1-£2 per item) and a taxi home.
When you get there, you'll probably have to wait in line. Door staff may search for drugs and they have been known to turn people away for the most ridiculous reasons - sometimes just because they don't think you fit the "look" of the club.