London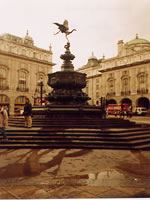 London is a powerful magnet whose power of attraction is getting stronger and stronger. Millions of people spend their time here, working and enjoying themselves. Plenty of commuters, tourists and foreign students invade daily the overcrowded streets of Central London, where life never seems to have a stop, as even at night, everybody is overwelmhed by new and interesting experiences to enjoy.
www.italiansinlondon.co.uk looks at London under a particular standpoint, the one of Italians, of course. Having a look from the said perspective, stimulates the imagination, letting discover places of interests, not necessarily well known, friendly people and, last but not least, exciting job opportunities.
Italians in London
Italians have settled in the capital of United Kingdom for centuries, living in London for different reasons: in the past, when they were forced to move to England during periods of crisis or because of political reasons, and more recently, looking for more qualified job opportunities or simply for tourism.
Clerkenwell (and Farrington), used to represent the heart of the Italian community, in the area called "Little Italy" and was focused around the Church of St. Peter, which was built in 1864 thanks to national hero Giuseppe Mazzini's efforts. It's the area where the oldest Italian restaurants, cafes and wine shops stand.
Italian contribution to London growth was positive and generally appreciated, except during the Second World War, when Italians became enemies: while some of them had their shop windows smashed by angry crowds, most of them were separated from their wives and were confined in the Isle of Man. Italians also settled in Islington, St Pancras, Westminster, Kensington, Lambeth and Chelsea, epicentre of Swinging Sixties London and later a rallying point for Londons' punks in the Seventies, where a lot of Italians decided to settle down several years ago. More recently, Italians have reached far sites such as Enfield and Bromley.
But the "Italian Invasion" spreads the whole London and environs, that's why www.italiansinlondon.co.uk is not limited to London itself, but tells you about some attractive towns reasonably close to London too, to which we have dedicated a specific section called Days out.
Spending your time and having fun in London is not difficult, if information is carefully selected from the right source. By visiting the various sections of this site, you can collect practical information which help you organise your stay, be it permanent, long or short term based.
Visiting is aimed at helping the visitor to better plan his stay in London, by supplying him/her with essential information about London's Boroughs, Churches, History, Markets, Museums, Palaces, Parks & Gardens and Sites of interest.
Shopping can help you better choose where to get around looking for the best bargain or getting the item you'd like to buy.
Working gives you essential information about what you need to work in London and how to better approach this issue.
Studying gives you relevant information about how and where to study. Particular attention is given to learning English.
Eating & Drinking summarises some important elements to keep in mind when getting out to eat or drink.
Accommodation focuses on some key-points to analyse when looking for accommodation in London, telling you some useful sources of information.
Life is about some ways you can enjoy your spare time, such as clubbing, going to cinema or theathre and so on.
Transport helps you know how to get around in London and environs, supplying you with useful information about bus, underground, taxi, train, boat and airplane.
Events is a kind of timetable where you can read about the most significant happenings in London.
Practical information asks you to pay attention to what to do before you leave, emergencies, lost & found, change, taxation and tipping.
Images wants to help you before you visit a place you could be interested in, so as to make you decide if it's worth spending your time there or not.
Summarising, the various sections we have told about and the ones which could be added to the list in the future, are aimed at making your life in London easier and more enjoyable.
Get in touch
You can help us improve www.italiansinlondon.co.uk by simply filling in the form Do you like www.italiansinlondon.co.uk?. We will carefully evaluate your suggestions, so as to convert them in relevant changes in our site, making it more accessible, usable, interesting and useful.
Don't forget that you can also get in touch with us by e-mailing us at webmaster@italiansinlondon.co.uk