Palaces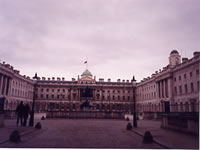 The Somerset House, Strand, is a 1,000 room-civic palace built by George III 's architect in the 18th century and has been restored.
In addition to the Courtauld Galleries with their collection of Impressionist and Post Impressionist paintings and the Early Renaissance gallery of Flemish and Italian Art, you can visit a new museum housing the Gilbert Collection of gold, silver and mosaics. Tube station: Charing Cross.
Buckingham Palace (ph. 0207 8391 377), the Royal Palace, can be visited along with the Queen's Picture Gallery and the Royal Mews, which display the ceremonial coaches, State Harness and Liveries, and the horses. Most splendid is the Gold State Coach of 1762, used at coronations. The Changing of the Guard at Buckingham Palace takes place on alternate days at 11:30 am. Tube Station: Victoria, Green Park.
Hampton Court Palace, East Molesey, Surrey (ph. 0208 781 9540), is a Royal Palace by the riverside built in 1514. Henry VIII and Wren (the architect of St Paul's Cathedral) built later additions. The palace houses a famous picture gallery of Italian masterpieces. The formal gardens are considered to be among the greatest in the world. Part of the gardens is dedicated to the famous Maze, a green labyrinth.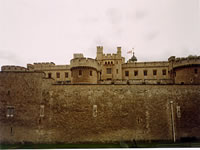 The Tower of London, Tower Hill (ph. 0207 709 0765), is London's oldest museum with the largest collection of armour and arms in Britain. Its most famous and most heavily guarded exhibits are the Crown Jewels. King Henry VII executed here two of his wives. The Tower is guarded by Beefeaters.There is a Changing of the Guard at 11:30. It's open from March to October, Monday - Saturday (9:30-17:00), Sunday (14:00- 17:00), from November to February, Monday - Saturday (9:30- 16:30), Sunday (10:00 - 17:00). There are usually long queues, specially on Sunday. Tube Station: Tower Hill.
The Houses of Parliament and Westminster Hall Westminster (ph. 0207 219 3000). We strongly suggest that you attend a debate while Parliament is sitting. The debate is free and you only have to join the queue from Monday to Thursday (14:30- 22:00) and on some Fridays (11:00-14:00). Tube Station: Westminster.
Kensington Palace, Kensington Gardens (ph. 0207 937 9561), is the home of some of the Royals and was the home of Diana, Princess of Wales. Part of the building can be visited and has a costume collection, including Diana's wedding dress. It's open from Monday to Saturday (9:00- 17:00) and Sunday ( 11:00-17:00). Tube Stations: High Street Kensington, Queensway.