Parks & Gardens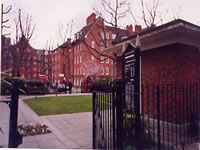 London's Parks & Gardens probably represent the best of free London. The choice is wide even in Central London and considering that they cost absolutely nothing ...
For example, we like a very quiet garden in south London surrounded by typical pink buildings, called Mill Bank Garden, whose entrance is shown on the left. It's conveniently located, very close to the Modern Tate, but very few people know it.
If the most famous parks are Regent's Park and Hyde Park, which are a must for any visitor, a large number of parks and gardens deserve to be explored.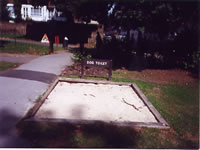 In Central London, we'd suggest that you walk through St James's Park, which delimits The Mall, leading to Buckingham Palace or Holland Park, to which refers the image on the left, that shows a really nice corner, dedicated to animals: dogs' toilet!
In one of the nicest Londons' villages, Richmond, Richmond Park was once a royal hunting ground and covers 2,500 acres. It's ideal for walking and cycling and is also home to a lot of wildlife.
Hampstead Heath is one of London's most popular and varied green spaces where you can jog, sunbathe, swim in one of the ponds, play football or fly a kite from the top of Parliament Hill. Alternatively, on a clear day you can just sit and admire the views of London. There are band concerts on Sunday afternoons in the summer on Parliament and Golders hills. Primrose Hill also has a great view of central London landmarks.
In the near future, we're showing you more about London's park & gardens.
Should you be willing to delve deeper into this issue, you can read "London's parks and gardens" by Jill Billington and Sandra Lousada, Frances Lincoln 2003, ISBN:0711220395.