Churches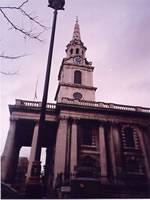 The image on the left refers to the Royal Parish Church of St Martin-in-the-Fields. We start with it, as this Church is the one everybody visiting London should necessarily be faced with. In fact, it's very centrally located, as it stands at a corner of Trafalgar Square - London WC2N 4JJ (ph. +44 (0) 20 7766 1100).
The first Church on this site was built in the middle ages, when this area was fields and woodlands.
The building shown in the photo, is the fourth to stand here and was completed in 1726 to a design by James Gibbs (1682-1754). The facade originated an innovative style, that ispired architects ever since, particularly in North America and in Ireland. It was based on Corinthian columns supporting a pediment bearing the Royal Arms of George I, with a great tower and graceful steeple, topped with a gilt crown.
The level below the one of the Church hosts a nice Crypt, with arches and massive limestone pillars. It's open to the public who can enjoy different services:
The Cafe-in-the-Crypt;
St Martin's Bookshop;
St Martin's Gallery;
The London Brass Rubbing Centre;
Concert booking office.
Another famous London's Church is St Paul's Cathedral, in the financial hearth of London, the City, EC4, (ph. 0207 236 4128), which is open during the week from 8:30 am to 14:00 pm. The nearest Tube Station gets its same name: St Pauls. We'd suggest that you climb up the stairs and get to the top of its bell tower, from which you can admire the City. Inside the Church there are some interesting paintings and mosaics.
When "The Curch" is pronunced, everybody refers to Westminster Abbey, London SW1, (ph. 0207 2225152), open from Monday to Friday, 9:20am - 16:45pm, Saturday: 9:20 am - 14:45 pm and 15:45 pm ­ 17:45 pm. The nearest Tube Stations are St James Park and Westminster. Coronations have been held in the Abbey since 1066. You can visit the Poets Corner and The Royal Chapels. You should not miss the Abbey Museum in the Norman undercroft.