Markets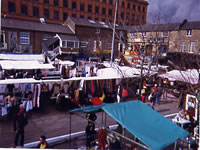 You don't know London, if you don't visit its Street Markets, which vary in size from large and noisy ones to just a few stalls. You can buy there almost every item, although not always, at bargain prices.
The image on the left refers to Camden Market, or better, just to a corner of it, as it stretches over a very large area in Camden. In fact, every weekend Camden becomes one huge market offering almost any kind of goods, from antiques to clothes, vintage and new, crafts, accessories and furnishings, and more. Sundays tend to be overcrowded. Camden and its markets are no longer as cutting edge or as rebellious as they used to be years ago, but that doesn't stop the visitors (Londoners and tourists) to came here, as Camden Markets still are London's trendiest, most hectic and most eclectic markets. That's why a TNT Magazine wrote: "Even if you're not buying, it's worth a visit to Camden to experience the chaos".
We'd better talk of Camden Markets, as there are actually several different markets each specialising in different items and different opening hours, which are:
Camden Lock market, a real success since 1974, which stretches north from Camden Town tube station to Chalk Farm. Here you can find all New Age goods arts and crafts and giftware. This market is open from Tuesday to Saturday, from 9:00 to 17:30, and Sunday 10:00-18:00;
Stables Market , a fashinating village of restored XIX century stables and underground catacombs, where you find English antiques, vintage clothing and records, items good for designers, ultra modern furniture and almost anything interesting , old and collectable. It's considered the most interesting part of Camden Markets and, being the most crowded, it's here where the best bargains are to be found. Open Saturday and Sunday, from 8:00 to 18:00;
Camden Canal Market, open Saturday and Sunday, from 10:00 to 18:00, where you can buy ethnic or offbeat crafts and clothing and giftware. At the moment is closed, because of fire;
Electric Ballroom Market, open Sunday from 9:00 to 17:30. It's an indoor fashion market. Tube stations: Camden Town, Mornington Crescent;
Inverness Street Market, which is held along this said street;
Buck Street Market.
Entirely unconnected to Camden Market is Camden Passage, which in fact is in Islington. Plenty of shops are open throughout the week, the market is held both Wednesday and Saturday, but Saturday is the best day for shopping. You can buy antiques, books and vintage clothing. Tube station: Angel.
The most famous London's market is Portobello Road Market, which spreads out Portobello Road, Goldborne Road, and under The Westway. We' suggest that you explore the side streets: Westbourne Grove, Ledbury Road and All Saints Road. It's said to be the world's best known antique market, with over 2,000 stalls. There are plenty of shops open throughout the week, from silver sellers to record stalls, but "the market" is held on Saturday and is awfully crowded, but you can't miss it! In particular, the general market is open from Monday to Friday, from 10:00 to 17:00, the flea market is open Friday and Saturday, whereas antiques market is open Saturday only, from 6:00 to 17:00: here, you can still find interesting antiques and reasonably-priced collectibles. Tube stations: Ladbroke Grove, Westbourne Park, Notting Hill Gate.
If you head to 13-25 Church Street, you'll reach Alfie's Antique Market (ph. 020 7723 6066), which is held from Tuesday to Saturday, from 10:00 to 18:00. Over 200 dealers offer a wide range of goods, from old advertising posters to decorative French furniture, costume jewellery, antique textiles, toys and dolls and 18th-century ceramics. Anyone looking for ideas and inspiration should visit this market, which attracts interior designers, theatrical costume designers, stylists, journalists and writers, dealers, collectors. Tube stations: Edgware Road, Marylebone Road.
East End's markets attract plenty of visitors:
Petticoat Lane Market is held in the deepest East London, with over 1,000 stalls along Middlesex Street and its side turnings. It's a market for over 200 years, open Sunday from 9:00 to 14:00 (for clothes and general items), although a smaller market is open from Monday to Friday at similar times. Tube station: Liverpool Street;
Brick Lane Market for all sorts of bric-a-brac, which is open on Sunday, from early morning to 14:00. Tube stations: Whitechapel, Shoreditch;
Columbia Road Market is a flower market held on Sunday from 8:00 to 14:00. It's a very typical event, we'd suggest that you visit: flowers, plants and all sorts of garden sundries overflow from stalls and boutiques lining this really charming street. Being there, don't miss the Old Truman Brewery, today used as an Art gallery and more. Tube stations: Old Street, Bethnal Green;
nested in the heart of the city, in front of Christ Church, Old Spitalfields Market (Brushfield Street) offers a unique experience, particularly on Sundays, when it is busiest, during its opening time (10:00-17:00). This old market is for buyers looking for something original, of excellent quality and value for money. Tube station: Liverpool Street;
Whitechapel Market is a street market for the local Asian community. It's held just opposite the Royal London Hospital. It's open six days a week from Monday to Saturday from 8:00 to 18:00. There are over 80 stalls, which sell almost everything: clothing, bedding, fresh fruit, fish, carpets, jewellery, electrical goods, etc. The goods are sold at reasonable prices. Tube station: Whitechapel.
Berwick Street is a very busy general market in the heart of Soho. It's open from Monday to Saturday. Tube Stations: Oxford Circus, Tottenham Court Road.
Chapel Market is mainly a food market. We'd suggest that you get there on on Thursday, Friday, Saturday and Sunday morning. Tube Station: Angel
Club Row is a weekly pet market (fish, fur and feather) and a general market held Sunday morning. Tube Station: Liverpool Street
Leadenhall Market is a place you can't miss if you're looking for lots of atmosphere: it's a Victorian covered shopping arcade, where poultry, fish, provisions and plants are on sale. The market is held from Monday to Friday. Tube Station: Bank.
Jubilee Market is the only market held in Covent Garden. It's open seven days a week, but it's a specialised market on Sunday, when you get arts and crafts, and on Monday with antiques. From Tuesday to Saturday it's a general market. Tube Stations: Covent Garden, Aldwych, Holborn.
Leather Lane is said to be a lunchtime market in the City. Open from Monday to Friday, there's much variety and it's very lively from about 11:00 to 16:30. Tube Station: Chancery Lane.
London Silver Vaults Market can really be a treasure of silver, ancient and modern. Visit it from Monday to Friday. Tube Station: Chancery Lane.
Shepherds Bush Market spreads out under the railway arches between two tube stations Shepherds Bush and Goldhawk Road.
Electric Avenue Market reflects the "taste" of Brixton where it is held, with its Caribbean flavour, exotic foods and second-hand clothes. It's open from Monday to Saturday (half day Wednesday). Tube Station: Brixton.