Studying
Studying in London can really be an exciting experience, as you can choose between thousands and thousands of different courses which can match any need. Of course, organisation is essential the same as getting the right source of information.
You don't have to enrol a course in Central London if you don't like the crowd. There are excellent courses even at the edge of Greater London, the choice depends on you.
The only piece of advice from us is to carefully evaluate any proposal, as studying in England is far more expensive than in Italy.
We'd suggest that you contact several institutions both in England and in Italy, as they have their representative in our country.
Before you live, it's a good idea to contact our official representative in London, to get to know some news that could help you plan your adventure in London.
Remember that foreign students are allowed to work in England being considered part-time workers up to 26 hours a week.
We personally attended a reasonable number of courses at some Universities in London, and generally speaking, enjoyed these experiences, being teachers professionals, structures adequate enough, support reasonable, only fares, as previously said, were really expensive.
Surf this page from time to time, as on the right in "News" you could read some information about interesting courses about to start, while on the left, in Studying - links, we plan to write down some web addresses of Institutions we consider reliable.
Courses
English courses
There are plenty of English courses in London. It's very difficult to select the right solution for you! Visiting ENGLISH IN LONDON you can get useful information along with a special discount on the cost of English courses held at selected schools of languages in London.
Masters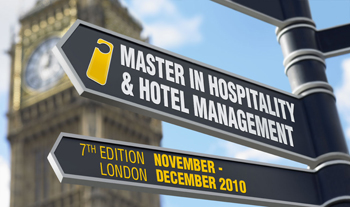 9th MASTER IN HOSPITALITY AND HOTEL MANAGEMENT
The Master aims to provide solid competences in the hospitality market. The native language academic staff will be able to give you a competitive view of this sector. The internship, after the lectures period, will allow you to start or reinforce a brilliant career in the hospitality marketplace. So, what are you waiting for? Would you like to work for an international chain of hotels or restaurants? If your answer is yes, take the opportunity of the last places and scholarships available! Sign up for the IX edition of the Master in Hospitality and Hotel Management and open the door to success!
For further information write an e-mail. We will reply to you within the day.