History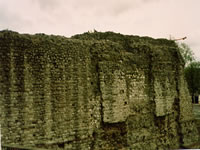 Although London's origins date back to a time when Romans hadn't yet arrived here, the first important settlement was the Roman one. The image on the left shows the ruins of Roman's wall, which stands not very far from the Tower of London.
London's Roman Amphitheatre, one of the most important British archaeological finds of the last century, opened its doors to the public a few years ago, nearly a decade and half after the discovery (1998) of the original London Arena beneath Guildhall Yard in the City.
Archaeologist Nick Bateman speculated that Guildhall may have been deliberately located there to incorporate surviving Roman masonry. There were two versions of the arena built near the great Roman garrison fort of Cripplegate, outside old City walls. The first was a timber structure begun in 70 AD and the second was a masonry structure built early in the second century.
The project to preserve the ruins and visually recreate the arena cost more than £1.3 million. Classed as an ancient monument, they are the basement of the new Guildhall Art Gallery. The Corporation of London decided to preserve the remains exactly as found, suspended below and above the new Guildhall art gallery.
The discovery showed that Guildhall was built, in the 12th century, directly above the site of the imposing north stand, where the most powerful figures of Roman Britain would have enjoyed the games. More almost certainly the Amphitheatre lies buried under the foundations of Guildhall, and the nearby church of St Lawrence Jewry.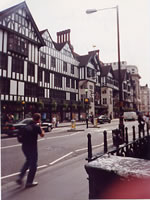 Only a fragment of the stone entrance tunnel, east gate, and arena walls survive, 20 feet below the modern pavement. Two doors of buildings flanking the gate remain. Apart from over 500 fragments of wooden drainage pipes, very few artefacts were found.
London's Roman Amphitheatre is supposed to have held up to 7,000 spectators.
Further London's history is rich in events. Firstly, we like to recollect the "Big fire", which burnt London. Only a few buildings saved.
The image on the left shows some buildings which stand between Regent's Street and Carnaby Street, that, as far as we know, survived to the said fire.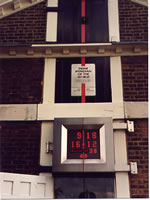 The last image refers to more recent history, the one of the British Empire, which had Greenwich as heart of its commercial and military power.
Earth was divided according to imaginary lines drawn from the North Pole to the South Pole, to show the position of places on a map.
That line were called "meridian" and being London the centre of the world, the natural consequence was to have London crossed by the most important meridian, called Greenwich meridian or Zero meridian.
The line climbing up the wall, is just the said meridian.