Winchester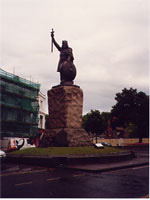 The best way to tell about Winchester is to summarise its history, which started in 450 BC, when a Celtic tribe settled on St Catherine's Hill. Three centuries later, in 150 BC, a Belgae tribe established a trading centre. In 70 AD, Romans started to built a walled city, called 'Venta Belgarum', which became an important regional town.
Later, Winchester became the hearth of Wessex and England and in 635 AD King Cynegils brought Christianity to it. The image on the left shows the bronze statue of King Alfred, who in 871, during Saxon times, made Winchester his capital. This statue was erected in the Broadway, in 1901, to celebrate his millennium, although lately was discovered that Alfred died in 899.
In 1035, King Canute died and was buried in Old Minster. In 1066, Winchester surrendered to William the Conqueror, who built a castle and a palace. In 1079, the construction of present Cathedral started. In 1086, Domesday Book was compiled in Winchester. In 1137, Bishop Henri de Blois founded the Hospital of St Cross. In 1141, Winchester was involved in the war between Stephen and Matilda. In 1207, Henry III (often said Henry of Winchester), was born at the Castle and baptised in the Cathedral.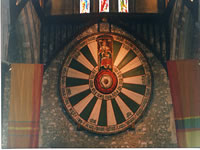 Years 1250-1280 are considered the approximate date of Round Table, the image on the left refers to.
In 1348, Black Death killed half of Winchester's population.
In 1382, the Bishop William of Wykeham founded Winchester College, believed to be the oldest school in England.
In 1522, Henry VIII entertained Emperor Charles V in the Great Hall. His image was painted on the Round Table to stress the antiquity of his line.
In 1554, Mary Tudor married Philip of Spain in Cathedral. In 1642, the Cathedral was ransacked. In 1645, the City and then the Castle fell to Parliamentarians. In 1651, the Castle was destroyed on Cromwell's orders. 1665 was the last period during which Winchester got royal's favours, as Charles planned a big palace designed by Wren, although only the King's House was completed. After that, Winchester lost its importance as a royal town. Nevertheless, it turned into a commercial town, with shops and small trade and the growth of the professions.
The more recent history dates back to 1817, when Jane Austen died in Winchester. In 1819, poet John Keats visited the town and wrote the ode "To Autumn". In 1863, the Royal Hampshire County Hospital was built and Florence Nightingale was consulted on design. In 1887, to mark Queen Victoria's jubilee, a statue was commissioned from the sculptor of Eros, Alfred Gilbert. Such statue can be seen in the Great Hall. In 1944 Churchill and Eisenhower reviewed troops at Peninsula Barracks, prior to D-Day.
During 1987-1988, an excavations of Roman, Saxon and medieval Winchester was made at the Brooks, while in 1998-1999, an archaelogical dig at Hyde Abbey discovered King Alfred's burial site.
Users willing to delve deeper into this issue, can read "'A History of Winchester" by Barbara Carpenter Turner, ISBN: 085033 7372 and English Heritage "Winchester", by Tom Beaumont James, ISBN: 07134 7446.
Coming to Winchester we have visited for you, we'd suggest that you walk through the historic High Street, which was the Roman's east to west route through the city. Today it has been pedestrianised and it's very nice wandering around and shopping. You can walk up to two of the city's greatest natural assets, the River Itchen and St Giles Hill.
The south-west quarter is a nice area, which has played a strategic role in the city's defences since Roman times. Of course, don't miss a visit to the Castle and the Arthurian Round Table in the Great Hall, along with Winchester's Military Museums.