Cambridge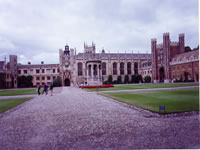 In our opinion, Cambridge is one of the most beautiful cities in Britain, as you probably guess just having a look at the image shown on the left.
Its prestigious University, centrally located, influences with its "atmosphere" all the city, as you can realise walking around.
We'd suggest that you don't miss the Cambridge and County Folk Museum. which is described as a "must" in every Tourist guide.
Central streets have been pedestrianised, so you can walk and appreciate the several interesting shops, bookshops in particular, along with typical pubs, a list of which has been given in the Cambridge - Useful link list, that you can see on the left side of this page.
There's really very much to discover here. Just to tell you something more, you could admire the ceiling in King's College Chapel and the treasures of the Fitzwilliam Museum.
Don't limit your visit to the city, as you ought to spread your knowledge to the County of Cambridgeshire, to admire:
Ely's Cathedral, which stands in this small delicious city, the family home of Oliver Cromwell;
Peterborough's Norman cathedral, the resting place of Queen Katherine of Aragon, Henry VIII's first wife;
Anglesey Abbey, which dates from 16th century and was built on the site of an Augustinian Priory;
Wimpole Hall, a really nice 18th century house.