Bath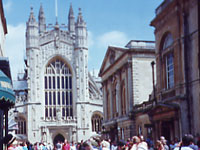 Bath is a really beautiful city and is surrounded by a very nice rural area. Its history goes back at least 2,000 years.
This explain why UNESCO has designated the entire city as a "World Heritage Site".
If you get there during the summer, you'll find the central area awfully crowded, as the image showing the magnificent 15th century Bath Abbey, lets suppose. That means that Bath does not rest on its considerable historic laurels. In fact, it's a full-of-life city, where a lot of festivals are held during the year.
Just to mention some of them, we remind you the International Festival of Music, Mozartfest, Fringe Festival, Literature Festival, Jane Austen Festival and Film Festival. It's useful to know that the Theatre Royal offers many pre-West End previews.
In addition, you can enjoy life music and other entertainment throughout the city.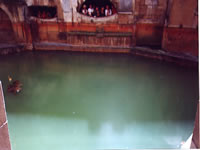 Bath is famous all over the world because of its Spa, which has been opened in Autumn 2002, after a £22 million restoration.
A visit to the Roman Baths, part of which you can see in the photo, gives real evidence of the various activities the Romans could enjoy here. For further information: ph. +44 (O) 1225 477785, fax + 44 (O) 1225 477743. You can get useful information via email at romanbaths_bookings@bathnes.gov.uk
Bath has got more to offer to the visitor: the Circus, the Royal Crescent, the Pump Room, Pulteney Bridge, the Assembly Rooms, museums and galleries (covering various themes such as Astronomy, Architecture, Jane Austen and American history).
We'd suggest that you visit Victoria Art Gallery, free to visitors, which features works by Gainsborough, Turner and offers a programme of temporary exhibitions. It's open all year, from Tuesday to Sunday and is located at Pulteney Bridge, Bath BA24AT, ph. +44 (O) 1225 477233, fax +44 (O) 1225 477231. For email enquiries, send them at victoria_enquiries@bathnes.gov.uk
If you like visiting museums and galleries, we'd suggest that you buy "The Bath Pass", which gives entry to 35 museums and attractions for one single purchase. The Pass is available for one, three and seven days from Bath Tourist Information Centre, Abbey Chambers, Abbey Church Yard, Bath BA1 1LY Ph. +44 (0) 1225 477101, +44 (0) 0870 444 6442, fax +44 (O) 1225 477787, e-mail tourism@bathnes.gov.uk
Visitors can also appreciate the variety and quality of items in its shops, where a broad range of fashion, art, antiques and crafts are on sale, along with plenty of eating houses, traditional pubs and restaurants.
Don't miss a promenade within Bath's parks and gardens, where flowers enrich and beautify the environment.
Bath's railway station is located in the city and provides good connections to local and national destinations. So you can consider Bath as a convenient base from which to explore both the Cotswolds and the Mendips (areas of outstanding natural beauty) along with several historic villages and valleys in North East Somerset.